Few would dispute that Harry Hale Buckwalter was a true Coloradan, a favorite son in fact, but it could be considered a real stretch to identify Buckwalter Radios as a Colorado brand. The only surviving Buckwalter Radio that has been located was manufactured in Chicago, but as Harry would have said, "it's got the Buckwalter name and imagination and that makes it a Coloradan." It's with that same audacity and because Buckwalter Supertone radios reflect his flair for innovation that the Buckwalter Radios are included in this series of articles about Colorado radios, although the truth may be that any Buckwalter radios made in Colorado were garage assembled and unidentifiable from the hundreds of other home built radios made at the time.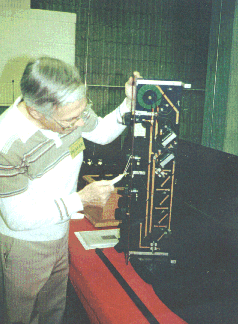 Henry Buckwalter was born in November, 1867, in Reading, Pennsylvania, but by 1884 he had moved to Colorado Springs where he began a career that included intervals as a printer, photographer, movie maker, newspaperman, and experimenter. It's his ability as a photographer for whom he is best remembered today, but it was his work in early movie making that made him a Denver celebrity in his time. He had both the eye of an artist and the inquisitiveness of a scientist, each trait an admirable quality, but in combination they created a personality in him that was described by his peers as "very colorful" and a type of disposition that was likely to be abrasive to others.

He rapidly gained success and prominence as a photographer, and this part of his life was filled with such escapades as photographing the opening of the Panama Canal and capturing aerial photographic scenes of Colorado from a hot air balloon, both considered as high adventures at the time. He met and was admired by some of the most famous celebrities across the world, but his first love was Colorado, remaining a very loyal and vocal booster for the state until his death.

It was only after Harry had turned 50 years old that he developed an interest in radio. With typical Buckwalter enthusiasm and vigor he was soon experimenting with the latest in equipment and techniques and was granted the official call letters 9XAG. His willingness to be audacious and on the leading edge of technology soon earned him a reputation with others in Denver's fledgling radio community as an "air hog" who nightly tied up the airwaves with his experimental transmissions.

When Harry learned the Denver Post had arranged for nationally renowned opera singer Frieda Hempel to visit Denver, he arranged to meet her and quickly persuaded her to broadcast a few of her favorite songs from his home transmitting site. The idea was scorned as simply a promotional gimmick by some in Denver's radio community, but to the public Ms. Hempel's radio concert was a tremendous success, and from it Harry gained the enduring reputation as one of Denver's leading radio experts. From that time on, he eagerly sought opportunities to voice his opinion on all aspects of the radio phenomenon, often writing open letters to the newspapers explaining radio's latest changes and innovations or challenging some new government regulation being made to regulate the airways. Some of these letters show his discontent with the design and performance of certain of the radios being manufactured, and his desire to build radios to reflect his ideas.

It is at this point the Buckwalter Radio mystery begins. Although his name appears in the city directories for Denver throughout the 1920s and he voiced his opinions in newspaper articles and letters on all matters concerning the emerging radio phenomena during the 20s, I have not been able to positively identify any radio that he manufactured. Some photos of radios imply they were made by him, but close examination discloses enough discrepancies to make them suspect. There is also the fact that, although he is constantly referred to as Denver's resident radio expert by the newspapers and is credited for selling radios from his home in 1921, he lists his business as a radio manufacturer for only the years 1923 and 1925. A further check of the business directories of the time lists no employees of the Buckwalter Radio Company and the business's address is his home address.

Coincidentally ( if you believe in coincidences), it is during the mid-1920s that a Clarence Buckwalter began manufacturing Buckwalter brand radios in Chicago. The first possible connection between Chicago's Clarence Buckwalter and Denver's Harry Buckwalter is that Clarence Buckwalter came to Chicago from Reading, Pennsylvania, Harry's hometown. Analysis of both families' genealogy does not prove or disprove they were relatives, but there is more than enough other evidence to make the family connection a plausible one.

Little is known of the earliest radios manufactured by either Buckwalter, but by 1925 Clarence (in Chicago) had a large enough manufacturing company to list its employees in the city directory. Clarence had also formed an agreement with the Supertone radio company of Chicago to produce a radio model bearing the Buckwalter name along with other models he was currently selling. It is also during this period that Denver's Harry Buckwalter was his most vocal with his opinions of radio industry and many of the design improvements he championed were found in the Buckwalter-Supertone radio.

Other Buckwalter radio models are listed in the various collectors guides, but not as being manufactured prior to 1925, and none are definitely traceable to either Buckwalter, although Denver's papers imply that Harry had at least the vision if not the facilities, while Chicago documents seem to prove that Clarence had the facilities, if not the vision. Could they have combined resources and produced the Buckwalter Supertone, or was the Supertone Company simply the lowest bidder Clarence could find to manufacture Denver's Harry Buckwalter radios, while keeping it from being manufactured in his plant?

To make the mystery more intriguing, the 1925 Supertone Buckwalter radio is a radio burdened with bearing a dual personality or, more appropriately perhaps, personalities. From the very first there were examples of this duality of purpose reflected in the radio. For example, while the logical and scientific part of Harry Buckwalter's nature would have wanted this radio designed to reflect his view of proper radio technology, the artistic and audacious side of his personality insisted the set be very distinctive and display the Buckwalter name prominently across the front panel and have only Buckwalter brand tubes lining the chassis. Further, the radio utilizes very innovative visionary radio technology, while seeming to see the technology for its beauty, instead of its functionality. Was this radio a result of Denver's Harry Buckwalter's dual intelligence, a combination of both innovative ingenuity and poor engineering, or was it built by Chicago's Clarence Buckwalter, supported by Harry's financial aid and name recognition?

When the Buckwalter/Supertone radio was released in 1925, it sported a modern superheterodyne circuit and the name Super Audible Heterodyne across the front panel. The small "patent pending" notice appearing below the name and the slight variation on RCA's trade name of Superheterodyne may have been seen as a way to avoid having to pay RCA's license fee for using RCA's patented superhet circuit in a set that obviously was not a kit. This awareness of RCA's possible challenge to the production of the radio seems also to be reflected in the use of Buckwalter brand tubes. Although Harry Buckwalter's flamboyant nature may have thrilled at having his name on a professionally built and innovative radio, his logical nature, and Clarence's business acumen, would have seen the need to have a reliable supply of tubes, since RCA was widely known to stop its tube sales to any radio manufacturer believed to be infringing upon RCA patents.

Even the set's name, Super Audible Heterodyne, was quite possibly the result of the Buckwalters' compromise between the flamboyant and the practical. The name may only have been chosen because it sounded appealing to Harry's artistic sense, but it could also have been acceptable to Clarence because of its technical connotations. He could have accepted the name because he realized it could mean the set's circuit employed an intermediate frequency in the range of 33-45 kc range to those buyers who were more technically oriented, while Harry would have also approved of this use of low IF frequency (with iron core transformers) because it would have resulted in a set with a better range of sensitivity, thereby eliminating one of the shortcomings he saw in other sets currently on the market.

Another aspect of the dual personality of this radio was the use of very high 'minimum to maximum' ratio Remler tuning capacitors. These differed from more conventional tuning capacitors in their 2-rotor/no-stator construction, an innovation that reduced the capacitor's physical size while increasing the number of its plates. This high plate count increased the possible selectivity of any radio they were used in. However, in this radio, the capacitors retained the older linear wavelength shape and the conventional 200-600 meter scale tuning knobs, rather than the more modern linear frequency shape. Paradoxically, the 'loop tuning' capacitor knob was equipped with a secondary scale graduated with the more modern kilocycle range. (During this period Colorado's broadcasting stations were undergoing the first of several frequency reassignments, and letters written by Harry Buckwalter to the newspapers and trade journals indicated his awareness of these changes and the implications they foretold).

Although this radio was equipped with Buckwalter 201A tubes, it was advertised to be designed to utilize automobile storage batteries for its filament power. The problem of matching the tubes' five-volt filament requirements to a six-volt storage battery source was solved with a rheostat which dropped the filament supply to all tubes simultaneously. In what seems to be another indication of the radio's dual personality and poor design, no provisions were made for a built-in battery eliminator, in spite of the increasing public demand for light socket powered sets.

The final design paradox of this set is that it employed a type of printed circuit. The chassis was made from a Bakelite type of material and had traces milled into its lower surface. These traces were filled with a copper paste for conductivity, and components were connected to (and through) the filled traces with small bolts and electrical eyelets. This design was certainly unique and created by an imaginative mind, while a logical and practical manufacturer's logic would have recognized it was likely to have been cheaper to manufacture and less prone to wiring errors than conventional hand wired sets. While the bolt-eyelet connecting points would seem to have been a potential source for all kinds of problems as the sets aged or were moved about, a set found in a local collector's collection played with no problem.

All indications are that either of the Buckwalters did not sell many of these sets. It seems unlikely this set's designs with its paradox of the ingenious and the impractical would have made it an unusually popular radio with the buying public. It's also unlikely the set's tricky name and patent pending label would have deterred RCA from pursuing patent infringement suits and imposing sanctions against any dealer selling the sets. This may explain why no advertisements for these sets can be found in the newspapers of that time and the fact that all of Denver's Buckwalter sets seem to have been sold from Harry's home. All of these things seem to indicate that this set became a 'vanity' set, a victim of a compromise between desires of its promoter and manufacturer, and not the trend setter that either of the Buckwalters would have hoped for. Although Harry is credited with being a Denver radio manufacturer until 1926, the Supertone model is the only Buckwalter radio known to be in the hands of a Colorado collector today.

In spite of the limited success of his radio manufacturing and sales efforts, Harry Buckwalter's reputation as a local radio expert remained untarnished. He was frequently called upon by the newspapers to explain the changes that Colorado's broadcasting stations had to undergo and the listeners had to endure. By the late 1920s, however, Harry Buckwalter's health had begun to fail, and in 1930 he died at the age of sixty-three. Although he was known and is remembered as one of Colorado's greatest photographers, few remember his contributions to Colorado radio history. While few, if any, Buckwalter Radio radios were probably actually manufactured in Colorado, the Supertone model did incorporate innovations expected from a mind like Harry Buckwalter's and bore the prominent Coloradan's name and so deserves to be remembered with him in Colorado's radio history.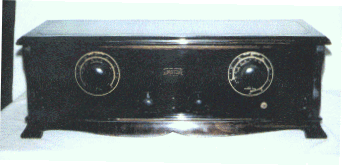 ---
Sources:
Brooks, L. Denver radio collector
Buckwalter, H. Letter. Radio Broadcast Advertiser. February 1926.
Chicago Public Library, Letter from Friddle, Marcia. May 22, 1997
Chicago Business Directories. 1928
State Historical Society of Colorado Library, Buckwalter Collection
Denver City Directories, 1921, 1923,1925
Diagram of Radio Frequencies. Buckwalter, Harry. The Denver Post. February 24, 1928.
Grinder, Robert. Grinders Radio Collectors Guide... Jones, William and Elizabeth.
Obituary. New York Times. July 6, 1951.
Obituary. Rocky Mountain News. June 1,1950
Pioneer Radio Dealer Dies. Rocky Mountain News. March 8, 1930.
Buckwalter, Harry. The Denver Post. Radio Reception Here Balled Up By Federal Board.. February 24, 1928.
Stratton, William. Domestic and Foreign Corporations...year 1929. State of Illinois.
Watson, Clyde. Letter. April, 9, 1997. Radio Collector
Zimmerman, Barry. E-Mail letter. April, 2, 1997. Radio Collector
---
Special thanks to Wayne for this article. Wayne is interested in information on the following manufacturers:
Madison/Moore
Buckwalter
Pyle/Amplex
Boulderadio
Reynrad (Reynolds)
A & M
If you have any information on these sets please contact Wayne at wagil@aol.com.
---
&nbsp